10 Unexpected Ways Alexa and Google Home Can Make Your Halloween Even More Haunting
Instantly ramp up the spooky vibe with a few chilling commands…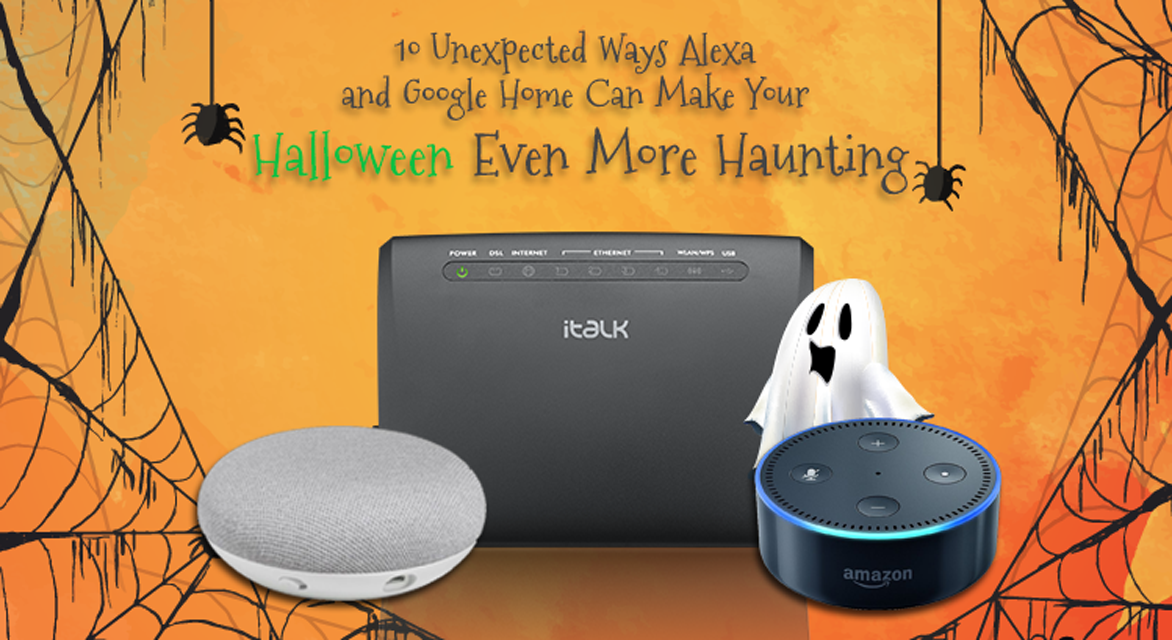 Everyone's favourite scarefest, Halloween is just around the corner… No longer just an excuse to eat a load of the kids' sweets after they've gone to bed, cover your entire house in faux cobwebs and attempt to finally smash the dance routine to Michael Jackson's 'Thriller', if you have Google Home or Alexa, you can instantly ramp up the spooky vibe with a few chilling commands… 

1. "OK, Google, let's get spooky…" 
Not only will this trigger an hour-long soundtrack of the spookiest tunes out there – we defy anyone to remain calm and composed as soon as John Carpenter's 'The Night He Came Home!' from the film Halloween kicks in – but, if you have smart lights connected too, they'll flicker on and off in line with your eerie score.
2. "Alexa, tell me a scary story…"
Genuinely more frightening than fun, this command is best said away from little ears. First, enable the Boo Bot skill and Alexa will randomly select you a scary story from the Reddit community – Short Scary Stories; with cheery titles like Scrambled Eggs and Murder, Plagued by My Poltergeist, and the frankly weird, Why, Dad?, prepare to be more than a little disturbed.
3. "Alexa, start spooky scream…"
The beauty of this very simple instruction is that you can set it to scare the living daylights out of your friends, family and complete strangers because it's armed with a timer. Once you've opened the skill, you can ask Alexa to let out a chorus of bloodcurdling screams at the very moment your unsuspecting audience least expects it…genius.
4. "OK, Google, scare me…"
You can scare yourself as well as your nearest and dearest with this instruction because you won't actually know what's coming… Once you've asked Google to do its worst, you might be treated to a freaky urban legend, a terrifying haiku (because, let's face it, no one quite does abject terror quite like the Japanese), a dare, or even some practical advice on how to rid your house of vampires.
5. "Alexa, open Halloween costume ideas…"
A good one for those of us whose Halloween imagination stretches little further than simply dressing up as everyone's favourite nightmare, Donald Trump (we reckon that'll be this year's most popular costume…you heard it here first), this practical skill is actually more handy than harrowing and will throw up all sorts of costume ideas off the back of a few simple questions about who you are and what you most enjoy taking the mickey out of.
6. "Alexa, open haunted house…"
Suitably nostalgic for grown-ups and a bit more child friendly than some of the more unsettling suggestions we've listed so far, this is a choose-your-own-adventure option that opens with classic scary scene-setter "It was a dark and stormy night…", and unfolds according to a range of different decisions you're prompted to make along the way.
7. "Alexa, open Escape Room…"
Not only is this clever – involving room searches, items to collect and complex puzzles to solve along the way via voice commands – but it's achingly on-trend too as Escape Rooms are all the rage these days. With three different rooms to escape from: an office, a jail cell and a car (all made appropriately harrowing), Alexa will compile your stats versus the stats of your competing teammates to conclude how fast you each escaped and crown one of you the winner.
8. "Alexa, open Spell Book…"
Halloween wouldn't be Halloween without reference to everyone's favourite wizard, Harry Potter, whose antics at Hogwarts are now finely woven into the very tapestry of anything involving witches, witchcraft and wizardry. Much more bright lights and excitement that actual killing and curses (which is good…), Alexa's Harry Potter Wizard's Spell Book will teach the user a spell to try out and explain exactly what it can be used for – simple, spooky fun for small people.
9. "Alexa, open Halloween Facts/Jokes..."
More educational than gory, the facts in question are actual factual facts, so if you want to pre-empt having the wits scared out of you with a bit of Halloween history or the truth about why pumpkins have become a symbol of the ghostly celebration, then you know who to ask… If, you want to add to your wit before having it scared out of you, ask Alexa for a joke; they're all dreadful, but in that category of so dreadful that they'll make you laugh out of sheer awkwardness. What's black and white and dead all over? A zombie in a tuxedo.
10. "Alexa, start Horror Movie Taglines…"
Nothing goes hand in hand better with Halloween than a back-to-back scarefest of some of the most gruesome horror films – from psychological, jumpy flicks like Scream, to downright disturbing movies like Saw, this skill will test your horror knowledge by giving you a memorable tagline ("I'll be right baaaack…") and challenging you to guess which movie it's from. With more than 100 to take a stab at, you'll no doubt pick up a few fresh ones to frighten your pals with.